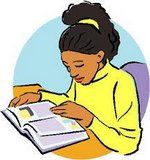 Reading is the Key to Learning
About the Library
Hours: 7:50 A.M. to 2:40 P.M.
The library at William Winans Middle School strives each day to achieve its goal to facilitate all students to become socially responsible independent library users, life-long learners, and to develop a love of reading, in addition to supporting the instructional program and curriculum of the school with an emphasis on information literacy. Materials selection is made based on the developmental needs of the students, faculty, administration, and staff.
To provide maximum access to the our resources, the library operates on a flexible schedule in which teachers sign up to bring in their classes to check out books and/or to do research at the teacher's point of need. Students may come to the library at any time during the school day as long as they have an agenda signed by their teacher giving them permission to do so. The library is open from 7:50 A.M. to 2:50 P.M. on Monday, Wednesday, and from 11:50A.M.to2:50A.M. on Friday or later as needs arise on the mentioned school days. The library media specialist is committed to providing enthusiastic support of reading in all formats as a means of lifelong learning, enjoyment of reading, a penchant for discovery, and success in the classroom.